Bio Filter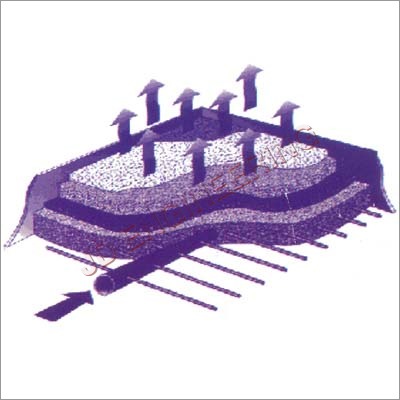 Bio Filter
Product Description
Bio Filter for Slaughterhouse
With outstanding technical knowledge and designing capability, we have become a trusted manufacturer of supreme quality Bio Filter. The system is manufactured with utmost precision and attention to technical details. The system is especially developed for abattoirs. We have constructed and commissioned a Bio Filter for a rendering plant of an Abattoir at Aligarh. The plant includes a foul air collection system within the rendering building.
JD Engineering Corporation has successfully completed a rendering plant project of developing and installing a spacious bio filter with open bed design for a newly set up slaughterhouse located in Aligarh. This assignment included designing of an air collection system for polluted air inside the rendering plant. Certified by EPA, the special design of this system is useful for collection and treatment of stinking smell inside rendering plant. Its axial flow roof fans are used to exhaust remaining leaked air with unpleasant smell. The advanced design of this system enables it to hold foul air efficiently by preventing its circulation inside the plant. This system is capable of processing 40,000 m3 foul air per hour. It consists of 360m2 surface area organized in total three cell pairs. Before bio filtration of foul air, the spray column humidifier is used to drench the air. This bio filter is capable of minimizing 11,5000U/m3 foul smell into 90 OU/m3 if it is used for six months. The calculated amount of leaked foul air during this period is 180 OU/m3.


Features:
Application specific design of this system is truly effective in total elimination of foul air generated inside rendering plants

Its advanced mechanism helps to decrease the amount of foul air emission rate.

Environment friendly operation.

Recommended by EPA


Technical Specifications
This system has 40,000 m3 air flow capacity in every hour

Its 360 m2 bed area is organized in the form of three cell pairs

It can exhaust 180 OU/m3 leaked foul air via its vents.

It can efficiently decrease the rate of unpleasant smell filled air from 11,500 OU/m3 to 90 OU/m3 with duration of six months.