Carcass Dressing Line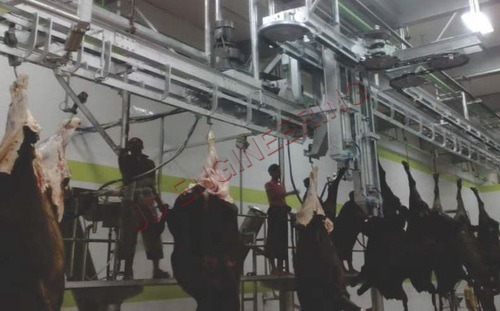 Carcass Dressing Line
Product Description
Our company has succeeded to achieve respectable position in the market as a reputed manufacturer and supplier of Carcass Dressing Line. This system is used in slaughter house for dressing cattle and goat. We manufacture this system using high quality stainless steel and aluminum. Highly demanded in the market, this system comes in different specifications. We offer this Carcass Dressing Line at affordable prices to clients.
Salient Features:
Sturdy construction
It produces minimal noise during its operation
Long service life
The entire body of this system is made of steel with hot deep galvanized treated surface.
The leg of its bleeding line as well as dressing line can be altered pneumatically.
75 motor controlled conveyor of this system is equipped with 12 flat rail.
The movement of the body of slaughtered animals is regulated by advanced sensor.
Sturdily developed platforms for preparing upper back part of carcass
Movable platforms for preparing front part of carcass
Frequently Asked Questions:
1) What is line dressing of animals?
This sort of dressing is embraced in the American Landmass,which was initially radiated from Canada.This strategy comprises of passing the corpse by gravity or power on through an above rail to different spots subsequent to dazzling and staying.
2) What are the procedures of carcass dressing?
Body washing: Remains is washed to eliminate soil, blood, stains and so forth. Just consumable water ought to be utilized for body washing. Cadaver might be washed previously or in the wake of parting. Surface of the cadaver and thoracic and stomach pit are washed by showering of consumable water.
3) What is carcass inspection?
Inspectors examine animals following butcher and gutting for potential changes and sores that show inadmissibility of the meat for food. After death assessment requires perception of all pieces of the cadaver, dressing strategies, gear, and offices to forestall pollution of eatable parts.
4) What is slaughter line?
Absolute traceability of meat during the process of slaughter.Slaughtering process in compliance with all hygienic standards. Ensured health compliance of meat. Safe and ergonomic execution of the processes. Controlling and monitoring all the machines from one place.