Pre Breaker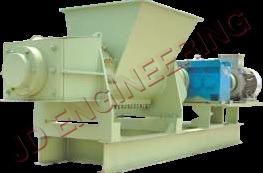 Pre Breaker
Product Description
Pre Breaker for Slaughterhouse and Meat Processing


The JD PB-4 model of Pre Breaker comes in handy for minimizing the size of all sorts of waste materials of the rendering industry. Notable for its heavy duty design, this machine can decrease the magnitude of waste substances like corpse of animals, remaining of livestock or plants, waste matter of slaughterhouse and bones of animals up to two inches easily. Unlike its other counterparts that have fifteen cutting knives, this ergonomically designed machine consists of seven steel sharp knives that ensure its precise cutting method and enhances its cutting capacity up to 12 to 14%. Stuffing boxes have been incorporated into this machine to prevent leakage during its operation. User friendly cleaning and maintenance service need to be executed in every week to optimize functioning of its stuffing boxes. Compact shape of its shaft, unique hardness level of its steel knives and trouble free knives and main shaft repairing process are some key attributes of JD PB-4 Pre Breaker.


Capacity: The working capacity of this system is determined on the basis of the size and raw materials used to develop this machine. Generally, the highest working capacity of this system is up to 12 tons per hour.


Construction: The anvils and knives used to design this machine are featured with solid surface with exceptional strength. These can be repaired and changed easily if needed. The inlet hopper and supporting frame of this machine can be designed as per specific configurations as provided by customers.